Product description
Product reviews
Delight any cat with limitless hours of play and healthy activity, with our Durable Cat Scratching Toy Ball. Clever design tempts cats with a playful game: they claw the ball and spin it faster and faster! They'll find plenty of ways to have fun and can even relax beneath the ball between sessions. High-quality wood and Sisal rope material are designed to last. This is an ideal toy to help keep cats active, healthy, and engaged with their home environment.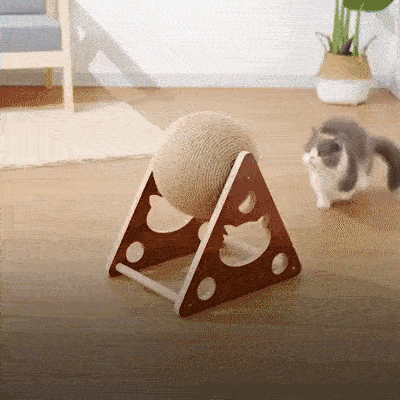 Transforms The Cat's Life: 
Let cats have hours of interactive fun with the Cat Scratching Toy Ball. It prevents boredom and ensures that cats have a good time all day.
Protect Furniture: 
The high-quality, super cute scratching toy ball will help prevent the cat from scratching and damaging furniture and other things at home.
Durable: 
Durable woven natural sisal rope made to stand the toughest claw, paw, and scratches. No flimsy fabric or chenille.
Material: Wood, natural Sisal rope